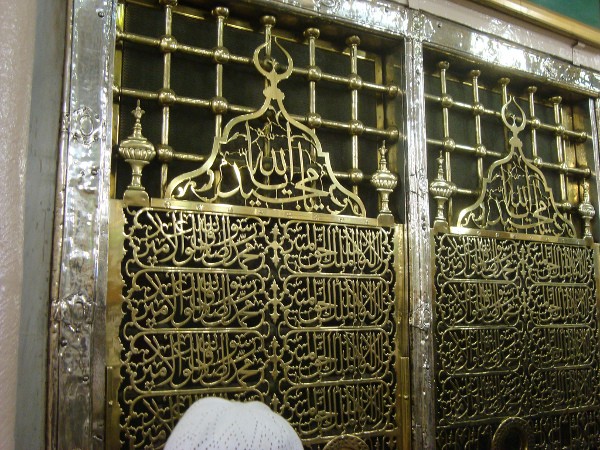 By: Nuruddinzangi
Source: Ilmgate
بسم الله الرحمن الرحيم
اللهم صل على محمد وعلى آل محمد، كما صليت على ابراهيم وعلى آل ابراهيم، انك حميد مجيد
اللهم بارك على محمد وعلى آل محمد، كما باركت على ابراهيم وعلى آل ابراهيم، انك حميد مجيد
Bism Allah ar-Rahman ar-Raheem, revealer of the Qur'an Kareem that says to His noble Messenger: "And We have not sent you except as a Mercy to the aalameen: all the worlds."
And as-Salaatu was-Salaamu upon the most noble of the mursaleen (Messengers), our master Muhammad, and upon his family and descendants until the Yawm al-Deen.
I stood this Sunday morning in London's V&A Museum before three magnificent pieces of silk in the Islamic Arts section. The most wonderful in design and color was a red band from the Honored Ka'bah, dating from the 1800s, because for hundreds of years the Ka'bah's covering was green – not black – in color, with a red band instead of the gold of today.
The two others were green pieces of the silk that once covered the tomb of the Prophet Muhammad صلى الله عليه وسلم. The first from 1517-1600, and the second from 1600 to 1700. For a hundred years each, these pieces of silk were exposed to all the blessings and mercies that were sent down from Allah upon the Noble Messenger صلى الله عليه وسلم, and to the majestic lights that rose up, emanating from the Light of the Worlds himself, صلى الله عليه وسلم.
Ever since Abbasid times, the coverings of the Honored Ka'bah and the Noble Chamber were made in Egypt; at one point in history the latter was being changed every five years. But after the reign of the Ottomans in the lands, the coverings of the inside of the Ka'bah and of the Prophetic Chamber were made in Turkey, while the outer covering of the Ka'bah remained the work of Egypt.
But the founder of the Kingdom of Saudi Arabia, Abd al-Aziz bin Abd al-Rahman Aal Saud, ordered that a factory be created in Mecca to manufacture these coverings from his day forward. Journalist Omar al-Midwahy, whose writings focus on the two Holy Sanctuaries and other important Islamic sights, was able to interview in Mecca two of the men who worked on the last covering of the Prophetic Chamber and its installation.
On the occasion of this servant's viewing of the blessed coverings, and hoping for forgiveness and acceptance from His Lord, he will attempt to translate this interview that reveals some of the secrets of the majestic chamber of Allah's Beloved, صلى الله عليه وسلم, hoping to gain the favor of Allah and to one day be counted among the servants (khuddām) of His Messenger صلى الله عليه وسلم.
FULL ARTICLE on MUSLIM VILLAGE