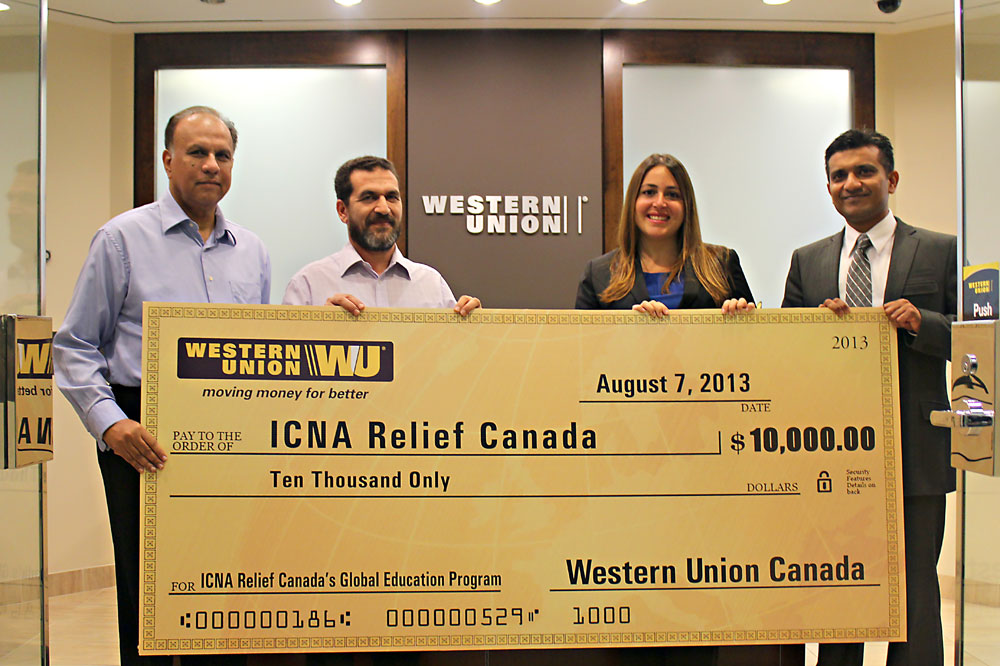 L-R: Syed M. Agha, Shaukat Hussain (both of ICNA Relief Canada) with Annie Karasseferian & Kamran Mustafa of Western Union Canada.
Western Union donated CDN$10,000 to ICNA Relief Canada in support of the charity's global education programs. ICNA Relief Canada is a division of Islamic Circle of North America Canada, a renowned non-profit organization that has supported community and social development in Canada since 1970. The gift in celebration of the Ramadan 'Eid' was presented at a ceremony held in Toronto on the 7th of August.
"Education support is one of the many reasons our customers use our services to send money to their loved ones, and we believe this kind of support is the best path toward a solid financial future," said Don DeLair, vice president and general manager, Canada, Western Union. "On the eve of Eid this year, we are thrilled to support ICNA Relief Canada and hope these funds will help young people around the world realize their true academic potential."
"By educating those who are living in very difficult economic and social circumstances, we would not only give them hope, but also enable them to change their condition and their very future," commented Shaukat Hussein, the Executive Director of ICNA Relief Canada. "We are grateful to Western Union for their Eid gift towards our education efforts."
About ICNA Relief Canada
ICNA Relief Canada (www.icnareliefcanada.ca) is a global humanitarian relief and development organization responding to human suffering in emergency and disaster situations around the world. In addition to its emergency relief efforts in natural or man-made disasters, ICNA Relief Canada also works on long term relief and development programs in the fields of education, healthcare and orphan support. Its partners range from small community support groups to national alliances and international relief organizations. ICNA Relief's domestic projects include food banks, matrimonial services, seniors' program, family counseling services, foster parenting and funeral support fund.